AQ Series 4Ports and 8 Ports Standalone voice logger
The Revolution of Voice Logging Technology Fully Stand-alone 5" Colored HD LCD with Touch Panel Announcement, Auto-answer and click to call facility
AQ4/AQ4L is a 4 Ports Plug and play standalone Voice Logger (Without PC) with Touch Screen panel. Just click the screen, AQ4/AQ4L will guide you to the configuration, records searching, live monitoring and playback of the phone conversation Equipped with 8 GB SD-Card expendable upto 64 GB. 8GB records upto 32000 recording.
Flexible Solutions For Your Business
All-in-one design

The all new AQ series multi-channel recording system is an all-around telephony recording system. the system has built in hard drive which allows all day recording without turning the pc on
Flexible expansion

Each AQ voice logging unit can be expanded from 4 channels to 8 channels by adding extra recording cards
Digital recording providers longer working time

AQ Series store up to 70,000 hours of calls if you choose the max 1 TB HDD. It also supports loop recording.
Fully Stand-alone Voice Logger

With 5" touch screen, user is able to achieve most operations such as playback, search, channel setting on AQ. No PC required.
Various recording interfaces

Record from PSTN, analog extension, digital extension, 2-way/ broadcast radio, intercom, microphone and more.
Automatic/Manual recording

Records all calls automatically as default or configures it as manually start.
Recording announcement + anto - Swer

Recording announcement can be play when you answer a call.
Completed call Records

Record call conversation with call type, date, time, Inbound/outbound number, call duration, recording duration and important mark.
Recording file encryption

All Recording files are encrypted for security purpose. only the authorized user can retrieve the archives with client program. otherwise, the data is not playable by unauthorized access.
System Alert

Various alert notifications to avoid recording interruption.
Real - Time monitoring

Live monitor line status and call conversation by administrator's PC.
Email Recording

Send certain of recording details to colleagues (as .wav file or compressed file) by email.
Single Recording

AQ Series support record on demand when system is not set to record automatically. user can press pre- defined hotkey prior call ends to save current conversation.
Excepted Numbers

Specific phone number or extension number can be set as a non- recording number.
Back up call detail recording

Enable to back up audio files and call details into PC or CD-ROM.
Pop-up window

Incoming call brings pop up window of caller ID with corresponded contact information of phonebook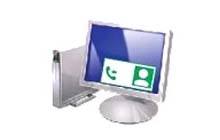 Statistics Chart

Analysis calls of each day and each hour.
Storage capacity management

Auto loop recording storage capacity notification
Station Management Detail Recording.

AQ series support SMDR input by Rs. 232 or TCP/IP connection.