GSM Voice Terminal (Turbo FCT) - XN520 Series
Aegis GSM Turbo Voice Terminal /FCT/FWT connect your business with GSM world with its compact and intelligent XN-520TURBO terminal which satisfies your cost cutting voice communication need and provide next generation state of the art voice recording features.
Aegis XN520TURBO GSM Fixed Cellular Terminal has provision to connect GSM Sim with two parallel FXS Ports. FXS Ports can be interface with any make of PBX, VoIP FXO gateways ,Telephone instrument, Dial pad for making and receiving calls via GSM network and has provision to connect with Desktop or Laptop via USB Port to use it's state of the art features via Aegis user friendly Software
Our Product
GSM FCT
Turbo can be equipped in Government Sectors, Travel Companies, Banking, Stock Markets, Call Centers, and many others organizations.
Focus on even abysmal element to the panoramic view of the product with indigenously developed technology backed us to set us apart from the market in this segment with valiance. The company's approach to strategically invest on team of engineers, research and development of our products has backed our customer base and Aegis informatics with fruitful results.
Salient Features
IVR Base Routing
Aegis XN520 TURBO IVR with call routing lets you route your customer calls to teams or agents with a customizable call flow mechanism. Every key press can be configured to trigger an action to optimize your call flow. For example, you could have your customer calls forwarded to your support team when they press 1, and to somebody from sales when they press 2.
Voice Mail Facility
Aegis GSM Voice Terminal XN520 TURBO is accessible with in-built voice mail facility, which automatically plays pre-uploaded greeting and give provision to customers to leave their voice message with contact number detail pending the discussion time every hour.
Easy to Install
GSM Voice Terminal XN520 TURBO plug and play installation procedure offer our customers an ease.
User Friendly GUI
The interface design of aegis GSM voice terminal XN520 TURBO is clear, concise, institutive and responsive, which help our users to utilize features efficiently.
Conference Call
Aegis XN520 TURBO offers multiparty conference (up to 8 parties) on GSM network with no drop in voice quality.
Auto Dialer
An Auto Dialer feature of aegis XN520 Turbo is operationally and economically feasible for any enterprise as it helps the user's efficiency by 200-300% by lessening idle time and proportionately expanding the discussion time every hour.
Voice Broadcasting
Voice Terminal XN520 TURBO's Voice Broadcasting is highly effective way of communication by businesses to improvise their services by gathering the genuine feedback from the customers.
Rugged Design
The expertise team of aegis has made complete state of art for producing impeccable quality GSM voice terminals. We make sure the conformity of testing from basic raw material to final product to achieve high -level performance in terms of eradicating electrical noise, enhancing circuit speed for audio transmitter and receiver side and deliver rugged product to our customers.
Hot Dialing
Aegis GSM Voice Terminal XN520 is accessible with Hot dialing facility, that will automatically establish a link with a predetermined number following a couple of moments handset is being lifted or hook off.
Welcome Messages
Aegis GSM Voice terminal XN520 TURBO offers plenty of customizable messages, meeting the need of the organization. In the long run, it will become a building block in the overall performance of the company.
High Gain Antenna
High Gain Antenna - Sometimes due to uneven geographical locations, congested area, or any obstruction between voice terminal and cell tower, signal strength gets diminished. our Aegis GSM Voice Terminal XN520TURBO has the provision of 3 mtr. wire antenna with high gain that has the ability to receive more signal.

Click to Call
Dialing a new number or remembering old one number is always a cumbersome task. click to call meets the requirements of markets and it refers to ability to import a contact list from your system, choose any contact from the GUI with dynamic searching facility and make a call with a single click.
Black List Unwanted Numbers
Being prudent in time management is the key to productivity, then why to waste human resources on unnecessary calls. the aegis voice terminals XN520 TURBO accessible with black listing features, which enables the user to make backlist of telephone numbers and prohibit those undesirable calls.
Speed Dial
This feature is useful for those who dial certain numbers on regular basis. Aegis GSM Voice Terminal XN520 TURBO have arrangement of 100 number double digits speed dial.
Tagging & Notation
Important calls can be flag/tag for future reference at remote agent/office can be automatically update in aegis centralize management software. In addition, notes/remarks can be added on important calls and search or prepare report when require.
LED Indication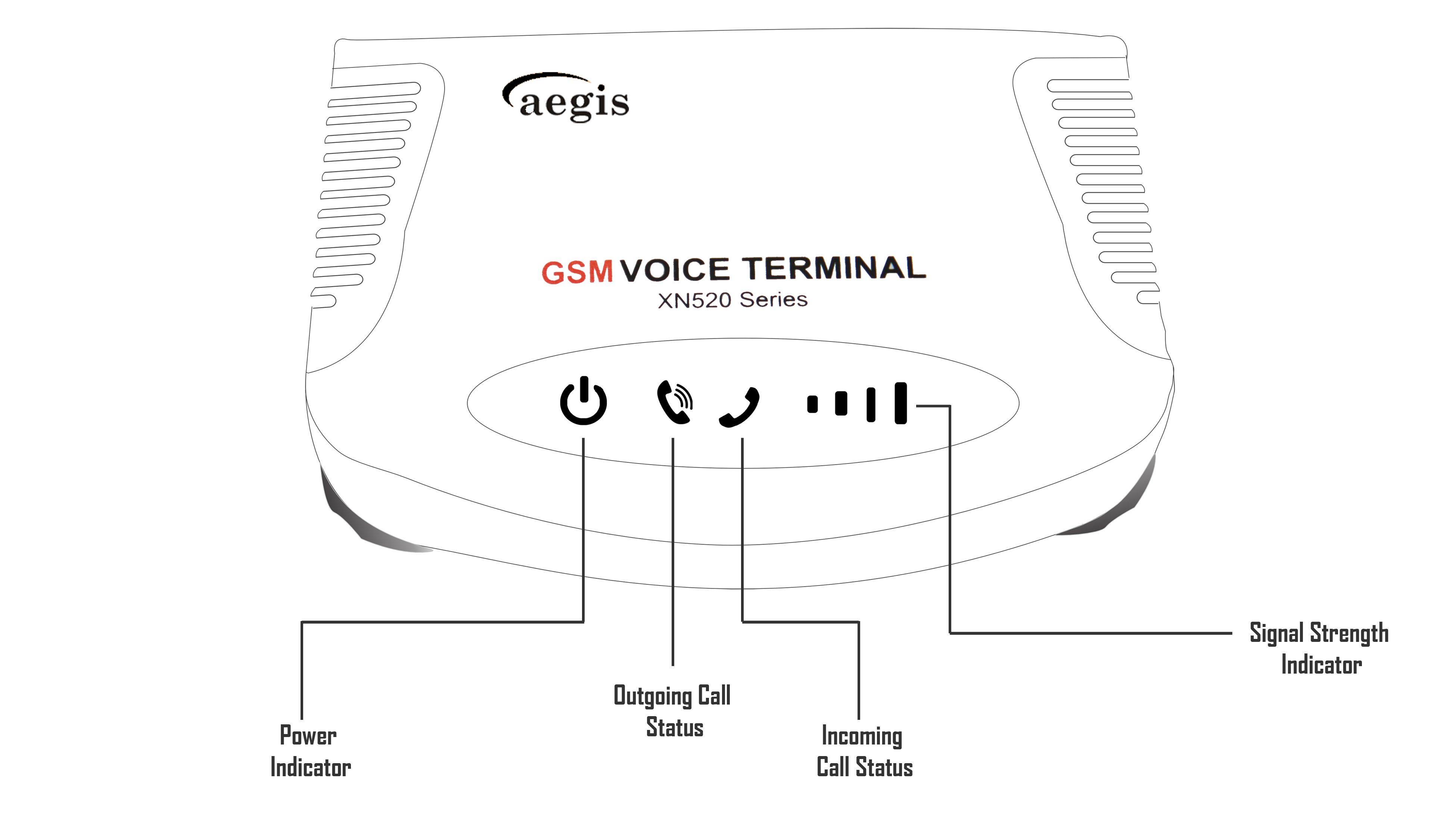 1. Power Indicator
White LED glow show indication of Device ON Condition

2. Outgoing Call Status

When Pick Headset LED Show RED Color Indication
When Call connect to customer LED show GREEN Indication

3. Incoming Call Status

When incoming call come LED Show RED Indication
When attend the call LED Show GREEN Indication

4. Signal Strength Indicator

Signal reception available (More Bars mean better Reception 1 & 2 Bars Mean No Signal 3 Bars Means weak signal 4 Bars Means good signal)
Accessories Connectivity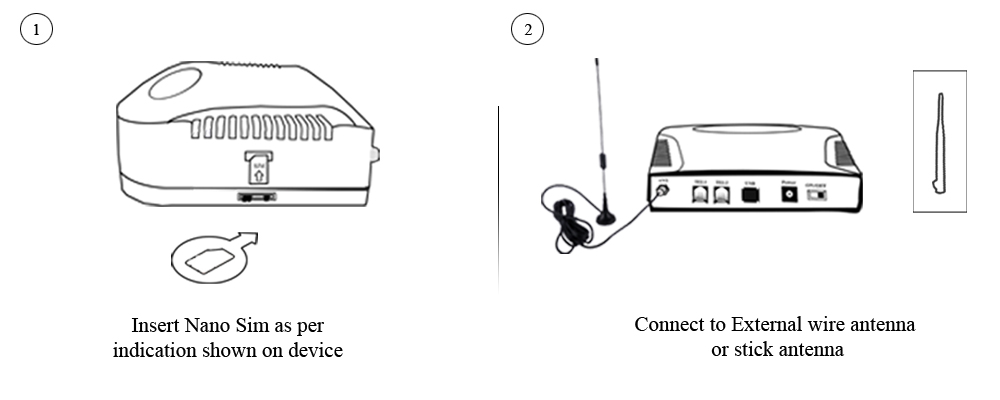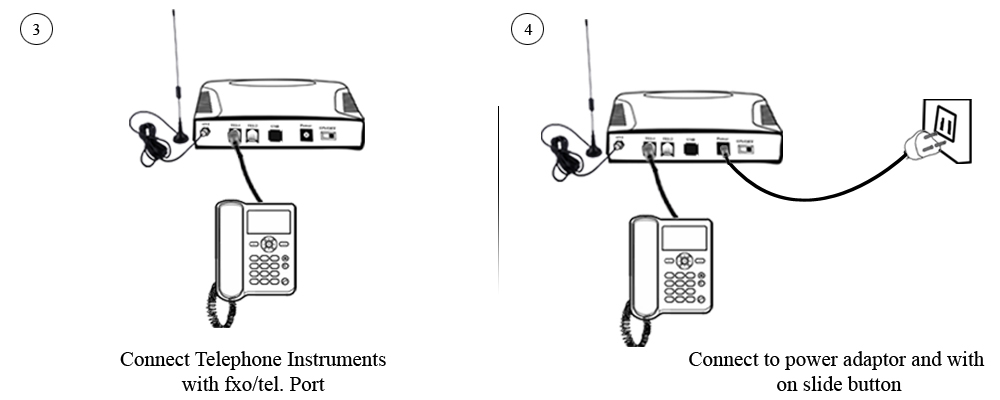 Technical Specifications
Model No :
XN-520FCT
Basic GSM device for voice application
SIM Port :
GSM SIM Cards Frequency Bands
Quad-band-GSM850/1900MHz, 900/ 1800 MHz phase 2+full band
SIM Interface
1.8, 3V SIM Interface
SIM card Slot
Nano sim card
Antenna amplifying
3.5db (omni-direction)
Antenna Connection
SMA antenna connection
FXS Port :
Connector
2 parallel RJ11 Connector
Dialling and Reception
DTMF Dialling
CLIP
DTMF CLI
Answering and Disconnect Signalling
Polarity reversal for call Connect/Disconnect signalling
Dial tone frequency
450MHz
Picking off voltage
30mA/41mA
Power Supply :
Input
External power adaptor 100-240 VAC, 47-63HZ Output: @1.25A
Power Consumption
5W (Typical)
Operation Circumtance :
Operation Temperature
-10C~60C
Storage Temperature
-20C~70C
Operation Humidity
45%-95%
Others :
Mounting option
Wall Mount and table Top
Device Dimensions (LXWXH)
163mmx113mmx32mm
Packing Box Dimensions (LXWXH)
257mmx193mmx64mm
Actual Weight
450 gm
Volumetric Weight
800 gm
Packaging
Standard Carton, 20PCS/Carton
Minimum PC Requirement :
For Single User
Operating System
WinXP, Win7, Win8, Win10 & Any Server
CPU
Dual Core & Above
RAM
2 GB & Above
Harddisk
500GB & Above
Connectivity Mode
USB Connectivity
For Multi User/Multi Locations : Agent Side
Operating System
WinXP, Win7, Win8, Win10 & Any Server
CPU
Dual Core & Above
RAM
2 GB & Above
Harddisk
500GB & Above
Connectivity Mode
USB Connectivity
For Multi User/Multi Locations : Server Side
Operating System
WinXP, Win7, Win8, Win10 & Any Server
CPU
i5 and above depend on No. of user connected
RAM
8GB and above depend on NO. of user connected
Harddisk
1 TB and above
IP
Static IP for Multi Location Setup
Bandwidth
Depend on Number of Multi Location users