IVR Service for Business - XN520 Series
Fabricate Your Business With Aegis IVR Service
Increase Professionalism
No need to keep anybody at reception

Reduce Cost
Reduce Call Number
What is an IVR Calling System
IVR, or interactive voice response, is a feature of automated commercial phone systems that engages callers and garner information by offering them options from a menu. The system then takes appropriate action in response to the caller's voice response or keypad responses.
The IVR's actions are determined by the caller's selections, it may offer information or, if the situation is more complicated, direct callers to a human agent who can better meet their needs. If you've ever dialled a company phone number and were greeted by an automated system that then interacted with you by playing a pre-recorded message, you are already familiar with an IVR.
IVR is typically used by businesses or contact centers to route calls based on the selections the caller makes. It can decide through these options whether the caller wants to speak with the billing department, the technical support team, or just a live operator.
Additionally, information like promotions, updates, or other crucial details or instructions are given through it. One instance is to let callers know that their calls will be recorded and that they will be asked if they wish to continue.
Route your incoming calls with Aegis IVR Service for customer communication
Aegis Informatics provide an IVR calling system. Which is based on latest technology that can be easily customized and designed to meet customer needs and requirements. Aegis call routing IVR helps to route the call automatically to the right agent at the right time. With the aid of Aegis IVR Service, customers will be happier through your customer support process which will be more competent with a smartly recorded speech - driven phone menu. In the present time, arranging gateways to route the calls to specific department is a costly affair. Providing pertinent business solution for any problem is among the core values of Aegis. Newly developed GSM Voice Terminal XN520 TURBO brings the call routing service, which also fits real estate, share trading companies, Banking and financial sector very well. GSM FCT Turbo with the feature of call routing directs the calls to department concern's mobile phones by pressing numeric key such as "1 2 3…" for customer's convenience, better management and delivering relevant information regarding services without wasting any time.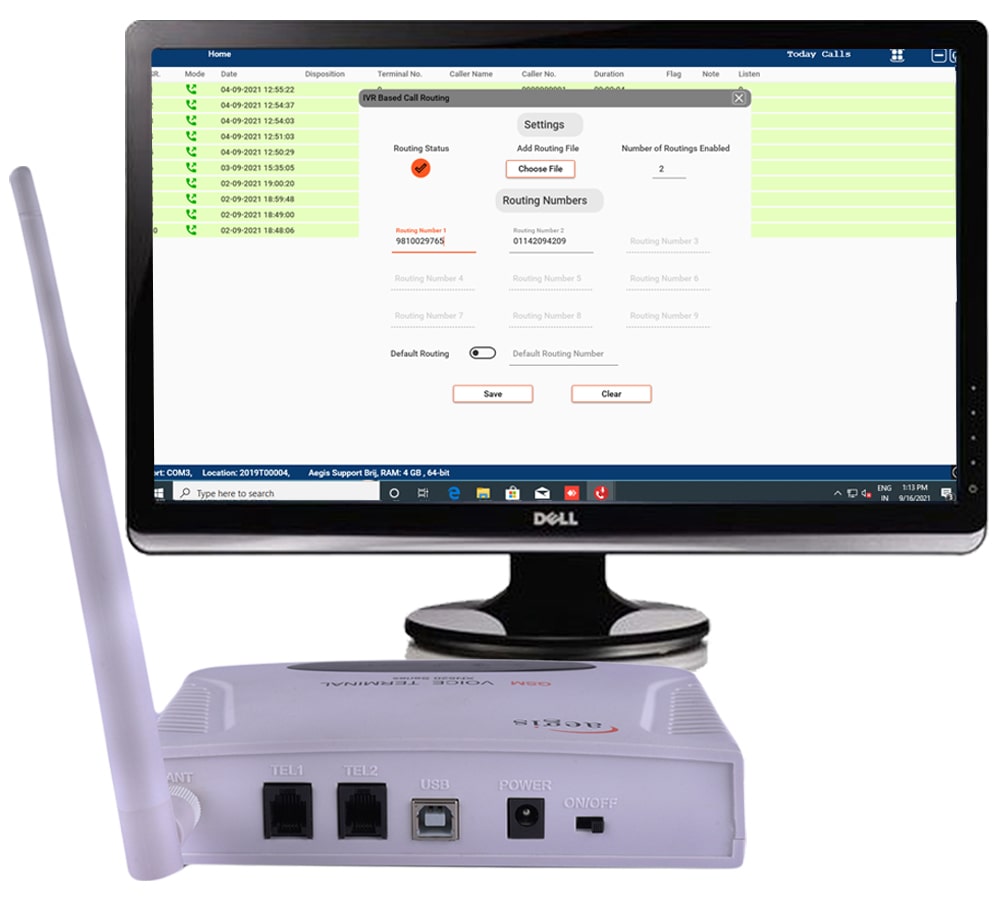 IVR Features:
IVR Menu
Greet your customers with pre-recorded messages and Connect your customer with the right agents using IVR options

Maintain Database
We can easily create and maintain database of incoming IVR calls which is help to meet your goals in future.
Call Monitoring
We can easily monitor all the agent's telecom device where customer's calls are routed by aegis ivr system in the office. We can easily understand how many calls were answered by agents.

Call Reports
Get call analytics reports on daily, weekly, and monthly basis. It's help to track an agent's performance.
How Does IVR System Work
When customer contact on business phone number
They are greeted by a pre-recorded message ("Welcome to the ABC Company, Press 1 for Sales department, press 2 for Account department, or press 3 for customer support") and then instructed to enter specific numbers on their keypad to receive the desired results.
Once the desired IVR is dialed by the customer, the process of fetching data takes place and the required information is relayed back to the caller.
When the desired number (press 2 for account department) is dialed by the customer, caller either waits in queue or is connected to the right department for assistance. In case queue is busy call will be route at default number.
IVR Benefits
Improve your company's image: IVR can be used by startups and smaller companies to give the impression that they are a larger enterprise than they actually are. if you have just a small number of employees in your company, you can set up IVR prompts so that callers can speak with account department, technical support, sales, marketing etc. No matter which department the caller selects, they will be connected with the team member tasked with taking all calls. Your customers will be astounded by your business' professionalism.

Call Monitoring: Call monitoring help to improve communication and customer service. mostly, it's used in customer support setting to help decrease overall agent training time and deliver a high-quality consistent support experience. Aegis IVR Calling software help to monitor all the agent's telecom device where customer's calls are routed by aegis ivr system in the office. We can easily understand how many calls were answered by agents. which agent took the maximum number of calls from aegis's IVR System and get full-fledged call information on the browser interface. call monitoring is a method to manage call quality, improve agent performance, increase agent efficiency and develop sales or marketing strategies.

24*7 Availability for Your Customers: You may let your clients know that you are available to help them at all times by using the smart call routing IVR service. Even when you aren't available, you can let them know why you aren't and what your official business hours are.

Management of large call volumes: IVR assists firms in properly managing their high call volumes by dividing them up among various departments and agents.
Real-time Analytics: With the help of IVR, you may view real-time call statistics on your panel for both incoming and outgoing calls.
Improve customer services: When a consumer contacts your business and is welcomed by an automated voice, it gives them the impression that you are more professional. It also improves their whole experience when they are linked to the appropriate person for the resolution of their problem.
Call Recording: Our IVR service assists in maintaining a record of all call recordings for all calls that were answered, which may be used in the future for training and quality analysis. It is beneficial.
Call forwarding to a dedicated department / Smart Call Routing: You can send the call to your senior or another concerned party or connect them with the ongoing call to continue the conversation with the help of our intelligent call management system, which also assists you with call forwarding and conference calls.
Sticky agent: The sticky agent function of IVR is another useful feature. If a customer uses a certain agent and considers them to be more helpful, you can enable connectivity to that agent for subsequent follow-up calls.
Technical Specifications
Model No :
Voice Broadcasting XN-520FCT
Voice Broadcasting Software
SIM Port :
GSM SIM Cards Frequency Bands
Quad-band-GSM850/1900MHz, 900/ 1800 MHz phase 2+full band
SIM Interface
1.8, 3V SIM Interface
SIM card Slot
Nano sim card
Antenna amplifying
3.5db (omni-direction)
Antenna Connection
SMA antenna connection
FXS Port :
Connector
2 parallel RJ11 Connector
Dialling and Reception
DTMF Dialling
CLIP
DTMF CLI
Answering and Disconnect Signalling
Polarity reversal for call Connect/Disconnect signalling
Dial tone frequency
450MHz
Picking off voltage
30mA/41mA
Power Supply :
Input
External power adaptor 100-240 VAC, 47-63HZ Output: @1.25A
Power Consumption
5W (Typical)
Operation Circumtance :
Operation Temperature
-10C~60C
Storage Temperature
-20C~70C
Operation Humidity
45%-95%
Others :
Mounting option
Wall Mount and table Top
Device Dimensions (LXWXH)
163mmx113mmx32mm
Packing Box Dimensions (LXWXH)
257mmx193mmx64mm
Actual Weight
450 gm
Volumetric Weight
800 gm
Packaging
Standard Carton, 20PCS/Carton
Minimum PC Requirement :
For Single User
Operating System
WinXP, Win7, Win8, Win10 & Any Server
CPU
Dual Core & Above
RAM
2 GB & Above
Harddisk
500GB & Above
Connectivity Mode
USB Connectivity
For Multi User/Multi Locations : Agent Side
Operating System
WinXP, Win7, Win8, Win10 & Any Server
CPU
Dual Core & Above
RAM
2 GB & Above
Harddisk
500GB & Above
Connectivity Mode
USB Connectivity
For Multi User/Multi Locations : Server Side
Operating System
WinXP, Win7, Win8, Win10 & Any Server
CPU
i5 and above depend on No. of user connected
RAM
8GB and above depend on NO. of user connected
Harddisk
1 TB and above
IP
Static IP for Multi Location Setup
Bandwidth
Depend on Number of Multi Location users