Aegis Voice Logger are designed to record on T1, E1 and ISDN PRI lines.
Basic Information
AVL-01TXE1 is a T1, E1 and ISDN PRI lines Call Reordering PCI Card with highest degree of reliability, flexibility and performance
Aegis AVL-01TXE1 Telephone call recorder / Voice logger allows the user to record conversations of maximum 30 or 60 Channel ISDN PRI /E1 /T1 and store the records into the computer's hard drive though PCI Slot. This combination of hardware and software of Aegis telephone call recorder is an ideal product to keep the track of conversations, stocking up the records, filtering desired result via advanced searching tool, monitoring online calls and myriads of other features.

In addition, AVL-01TXE1 voice logger simple installation procedure, Rugged hardware design , User friendly GUI and integration with centralize server makes it impeccable solution for business.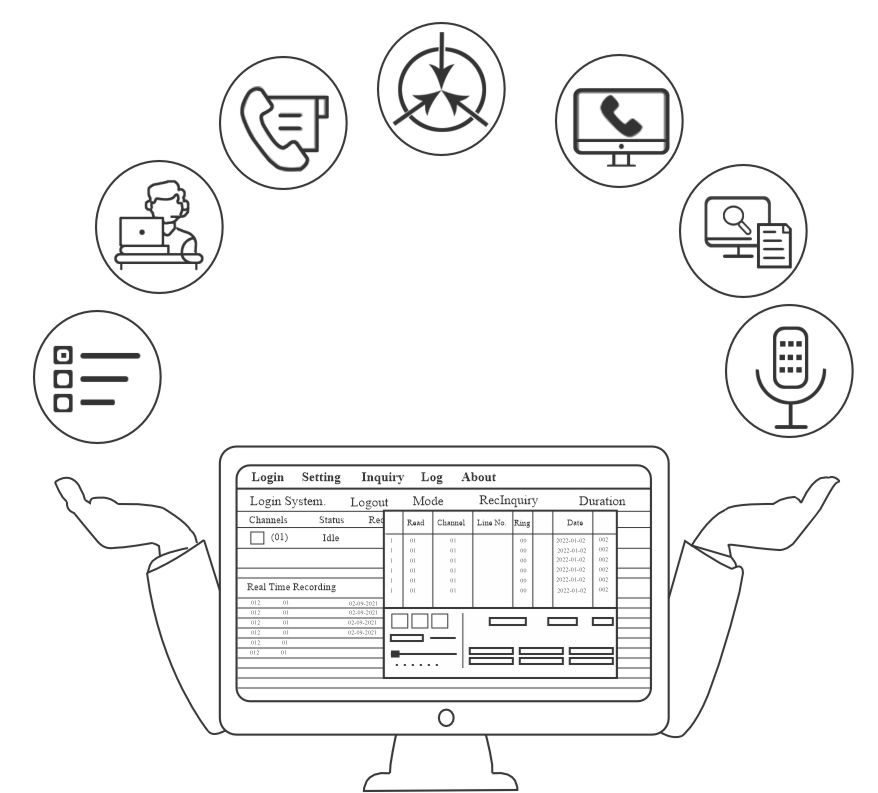 The flexibility of our voice logger allows you to record from a variety of lines and have all your locations centralized into one server with Aegis Centralize management software India (CMS).
Our PRI Voice Logger allows you to record phone conversations into a voice database through a PCI Slot of your computer automatically. It also allows users to manage all stored recordings and information with its management software
With unlimited access to the recordings, you can have multiple managers accessing the data without the need for additional cost or license fee. Need your agents to listen to their calls for self-training? Not a problem, no additional fees or costs are involved with our voice Logging software for this.
Salient Features
Connectivity
Support E2/T1/ISDN PRI 30/60 Channel

Compatibility
Supporting most major PBX system such as Cisco, Avaya, Nortel, Mitel, Panasonic, Matrix, and NEC our call recorder can be set up to meet and expand with your needs and system.
Online Monitoring
Admin or supervisor can select any agent or extension channel to listen call conversation in real time
Powerful Search and Reporting
Powerful search and reporting - Searching of previous call data by phone number, time, date, tag, comment, company name or even by customer name through the context storage
Echo Cancellation
Aegis
telephone call recorder
, voice logger provides an impeccable sound quality with its features like Auto gain control and auto echo cancellation.
Auto Recording Circularly
Aegis Management software has the provision to caution the user by an alarm in term of pop up on the screen, when memory reaches to the brink. when the happens, the user can free up the space by formatting previously unwanted files.
Unanswered Calls
Unanswered calls number if not attended
LAN Base Client Software
Aegis telephone call recorder has provision of client software it works on N Number of PC connected on LAN Network. Supporting multiple user access levels, the user interface helps super visors, and generate reports for further analysis.
Note and Flag
Tag Notation and Flag - Important calls can be flag/tag for future reference. In addition, notes remark can be added for each call record.
Recording File Format
Auto record of calls incoming and outgoing calls as compressed .WAV files so you can hold recording database without taking up too much space in your computer
System Alert
various alert notification to avoid recording interruption.

Call Management
Advanced call management function - can list, print and statistical all incoming outgoing & missed calls.

Export to Excel
Export to Excel - Single click for daily, weekly or monthly calls report in excel
Integration With Third Party Software
User can integrate aegis voice logger with most third-party database or tool. with automatic archiving and back up support you can store your voice records efficiently on any third-party database (My SQL, MS SQL, Access)
FTP Auto Back-Up
After open FTP setting, it can back up the recording file as secondary backup on other PC/ server.
Technical Specification:
Model No:
AVL-01TXE1
30/60 Channel ISDN PRI Recording Card
Technical Parameters:
Recording Interface
PRI Normal Slot
Voice File
.WAV
Connection
Parallel
Input Resistance
75Ω/120Ω
Signal Noise Proportion
≥38db
Recording Distortion
≤2%
Frequency Respond
300 ~3400HZ
Date Rate
ADPCM 16 Kbps
Collection Rate
8Kbps/s
Recording and playback decode format
ISDN-PRI (30B+D), NO. 1, NO. 7 R2
Consume Power Maxima
≤15w
Interface
RJ45
Distortion Degree
≤2%
Accessories
Connectors, Software and user Manual CD
Operation Circumstance :
Operation Temperature
-10~60C
Storage Temperature
-20C~70C
Operation Humidity
45%-95%
Others :
Packing Box Dimensions (LXWXH)
245mmx160mmx47mm
Actual Weight
450 gm
Volumetric Weight
800 gm
Packaging
Standard Carton, 20PCS/ Carton
Minimum PC Requirement :
In order to make Aegis ISDN PRI Voice logger operate normally, we recommend PC requirement according the following:
For Single User
Operating System
WinXP, Win7, Win8, Win10 & Any Server
CPU
Dual Core & Above
RAM
2 GB & Above
Harddisk
500GB & Above
Connectivity Mode
PCI Connectivity
For Multi User/Multi Locations : Agent Side
Operating System
WinXP, Win7, Win8, Win10 & Any Server
CPU
Dual Core & Above
RAM
2 GB & Above
Harddisk
500GB & Above
Connectivity Mode
PCI Connectivity / WiFI side/ Internet
For Multi User/Multi Locations : Server Side
Operating System
WinXP, Win7, Win8, Win10 & Any Server
CPU
i5 and above depend on No. of user connected
RAM
8GB and above depend on NO. of user connected
Harddisk
1 TB and above
IP
Static IP for Multi Location Setup
Bandwidth
Depend on Number of Multi Location users