Auto Dialer - XN520 Series
Basic Information
What is Auto Dialer ?
Automated Dialer Software or An Auto Dialer is an outbound dialer solution provider which help to dial out a set of contact automatically and saves significant time for your agents.
Aegis GSM Auto Dialer With Jio VoLTE Network
Aegis Auto dialer, a unique, user friendly, budget friendly software/device is a new craze in the market. It is the cheapest amongst all other devices available in the market along with a lot many features. The only device comes with Jio VoLTE network. No other device in the market comes with such great network support. We charge you with per device as per requirement whereas the other devices come in a package. Auto dialer system has all features what you are looking for.
Salient Features
Auto Dialing
In this feature, number will be automatically dial from the uploaded excel sheet when user start the auto dialing process
Manual Dialer
Aegis Auto Dialer has provision of manual dial in which user can select the call from excel sheet for dialing the number to the customer
Click to Call
Aegis Auto Dialer has provision of Click to Call, In this feature user can dial with computer's keypad or software virtual keypad
Call Disposition
Remembering which call important for us it is always a cumbersome task but aegis auto dialer software has provision of call disposition in this feature user can mark the recorded call like important, warm, blocklist, hot etc. for future reference
Advance Searching Tool
Advance Searching Tool help to search of previous call data by phone number, time, date, tag, comment, and customer name through the context storage
Call Pop-Up
Call pop-up helps agents to get the most important information about the caller before they pick up the call and can add current remarks if required . It's a perfect tool to manage customers data in efficient way and reduce average handle times for every incoming call.
Call Recording
Aegis auto dialer has provision of In-built 320000 mins of call recording .it allows customer to record phone conversations into on-board SD card automatically. It also allows users to manage all stored recordings and information with its Advance User-Friendly window base management software.
User Friendly GUI
The interface design of aegis
GSM Voice Terminal
XN520 Auto Dialer is clear, concise, institutive and responsive, which helps our users to utilize features efficiently.
10 Customized Fields
Aegis Auto Dialer software has provision of customized field option we can 10 field customized in your data sheet like we can add Brach No., Group No., Company Name, Department Name. we can make 10 field as per user requirements.
Call Reminder
Aegis Auto Dialer has amenities of call reminder which you can set up in advance to make a call to you at a fixed time for the purpose of reminding you of something important. You can use the Reminder Call service whenever you like.
Tagging and Notation
Important Calls Can be allocated precise tags for quick identification, as per user's choice these tags can be customized and remark/notes can be added for each call as per the significance.
Echo Cancellation
Aegis
Telephone Call Recorder
has provision of auto gain control and auto echo cancellation circuit which provide best quality crystal clear voice recording.
Detailed Agent Report
Our Aegis Auto Dialer provide full-fledged agents' reports it is easy way to track an agent's performance daily or monthly basis. We can easily understand how many calls were answered by agents, which agent took the maximum number of calls from aegis's call detailed reports.
Feature of Detailed Agent Report
1. Call's Detail
2. Login Logout
3. Selected Calls Graph
4. Calls per Agent
5. Calls per Hour
6. Real Time–Campaign
7. Monitoring
8. Breaks/restart reports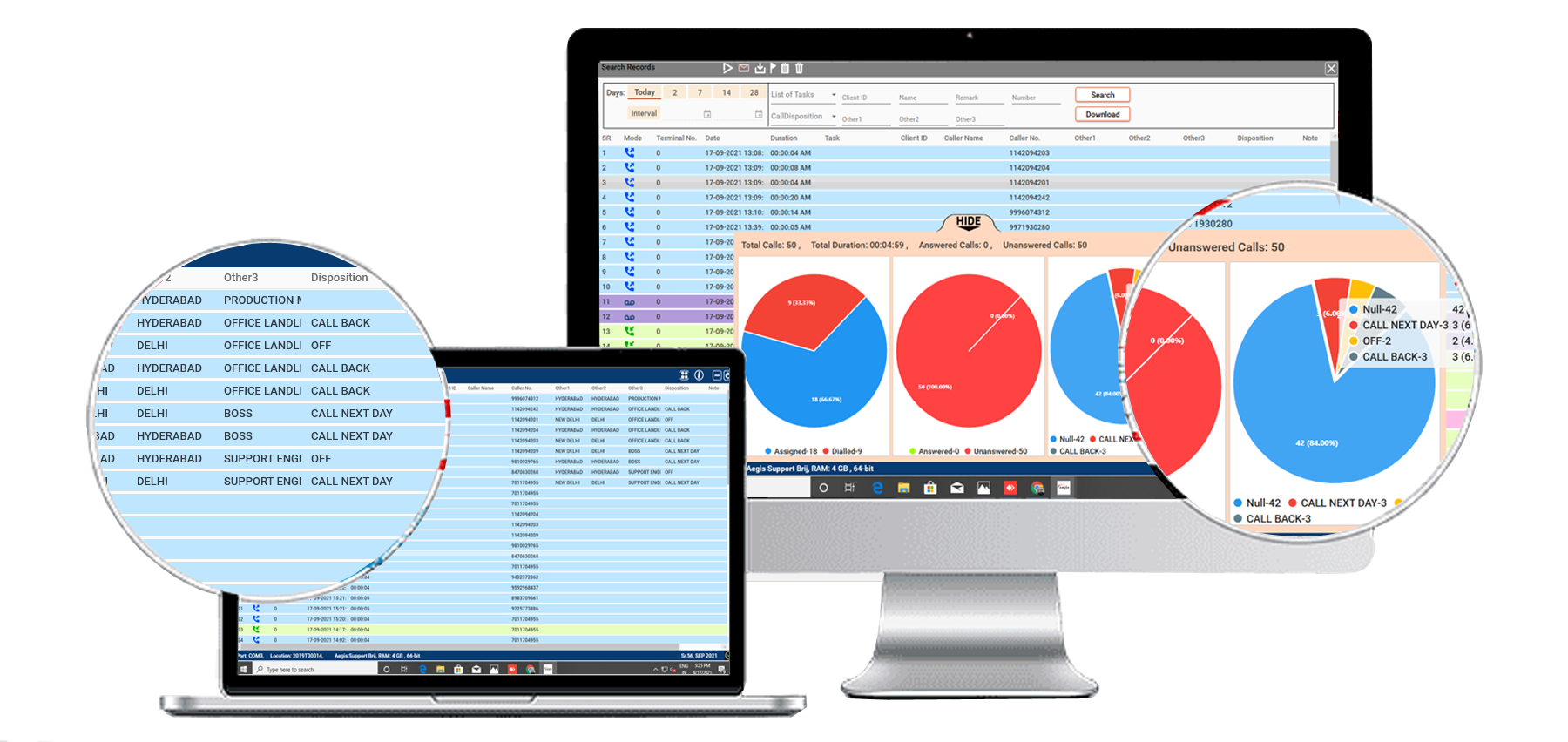 CMS Connectivity
Aegis Auto Dialer has provision of Lan base CMS connectivity our auto dialers are compatible with aegis CMS window base software application. Auto dialer CMS that monitor all the telecom device, located in several PC in the office. It is help to monitor of agent assigned to a call's detail and get full-fledged call information on the browser interface. Call detail comprises of caller/caller ID, date, Time, Duration and many other details in auto dialer CMS software.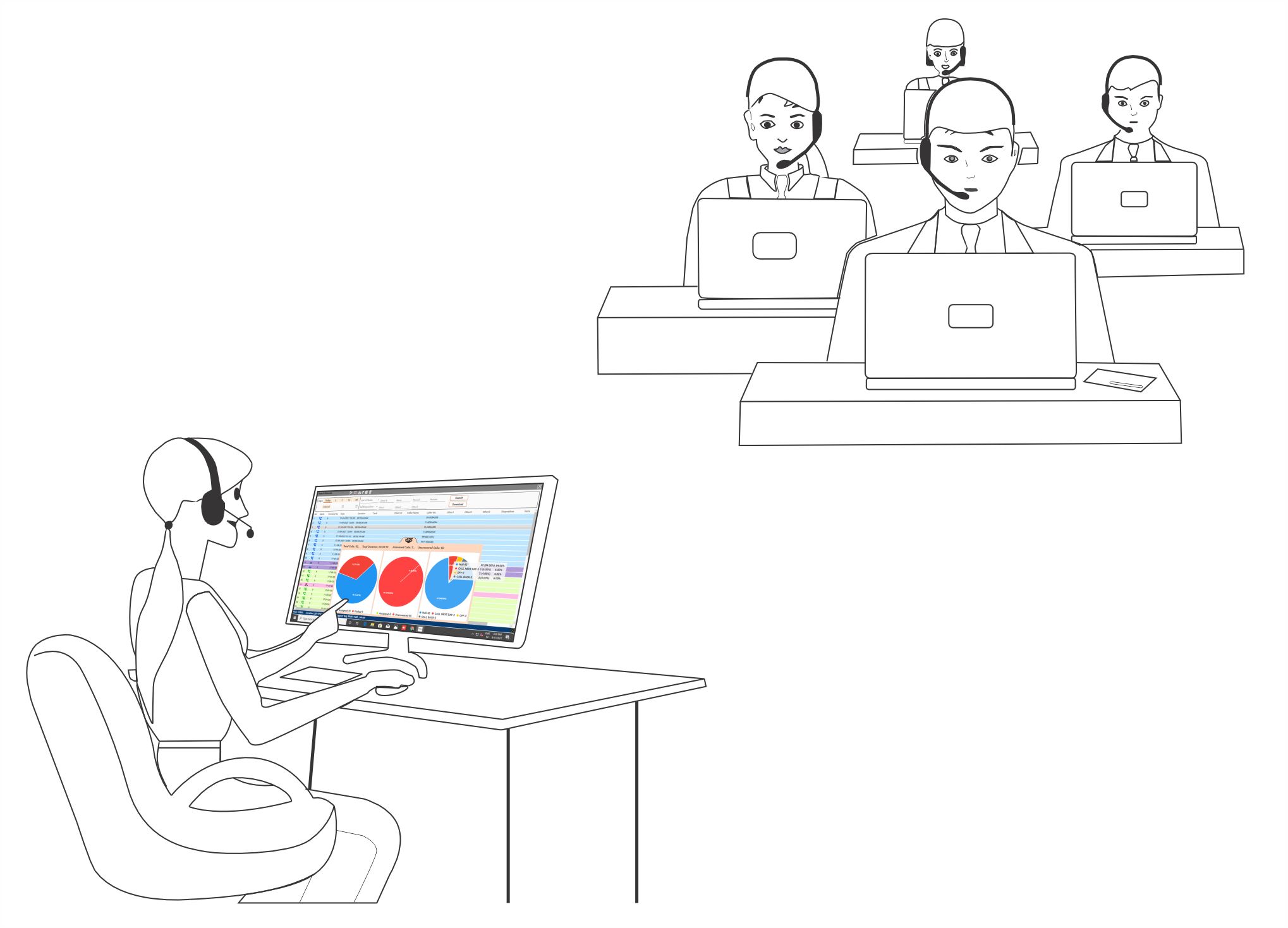 Auto Dialer
Auto Dialer CMS Connectivity
Which Industries use Auto Dialer Technique:
Banking and Finance Sector : Manually dialing a thousand of customers for the purpose of sharing investment plans, offering and spreading awareness for new schemes like mutual funds plans, organizing customer feedback response is always tedious task. An auto dialer feature in Aegis Software is operationally and economically feasible for especially banking and finance sector as it helps the user's efficiency by 200-300% by lessening idle time and proportionately expanding the discussion time every hour. Here, the user can import contact list, and then, Automated Dialer software will start dialing numbers one after another, also keep the record of their date, time and feedback from the calls.
Debt Collection Agencies : Manual dialing a thousand of clients to get the status of debtor by agents is arduous and painful task. As a matter of first importance, it is quite hard to get hold of the indebted person live on the phone and an agent need patience to persuade the debtor and dial multiple times on regular basis. So, auto dialer is solution that can increase the productivity by 200-300% by decreasing inactive time and proportionately extending the exchange time each. An auto dialer highlights in Aegis Software is operationally and financially doable for particularly debt collector agencies as it helps the agents. Here, the user can import contact list, and then, software will start dialing numbers one after another, also keep the record of their date, time and feedback from the calls.
Call Centers : Auto Dialer for Call Center, The process of outreaching to thousands of customers for call center using manual dialing is time consuming and tedious task. The giant organizations have their own call centers and perform outbound calls. It becomes imperative for these organizations perform their tasks efficiently and smartly. So, Automated Dialer or Auto dialer is innovating solution that is operationally and economically feasible as it helps the user's efficiency by 200-300% by lessening idle time and proportionately expanding the discussion time every hour. Here, the auto dialer software will start dialing numbers one by one after the user imports their contact list, and it will also keep track of the date, time, and any feedback received from the calls.
Auto Dialer Benefits:
Enhanced Business Operations Efficiency : When you use an auto dialer in your company, manual dialling is no longer necessary. The system gets rid of call drops, long wait times, dial-by-mistake, and other call restrictions. It has a favourable impact on your company's operational effectiveness.
Agents only receive calls that are connected when the dialling procedure is automated. Due to the auto dialer's capability to identify any unserviceable numbers, voicemails, and busy signals, the call connect ratio will significantly improve. Naturally, more connected calls only increase the effectiveness of commercial operations.
Expand Agents Talk Time : The significant improvement in agent talk time as compared to manual dialing is one of the key advantages of the auto-dialer software. Agents communicate more with prospects and customers when they have a low idle time and a higher call connect ratio. The auto dialer extends agent talk time, which boosts agent productivity and confidence while also improving customer engagement.
Technical Specifications
Model No :
Auto Dialer XN-520FCT
GSM Auto Dialer for outbound dialer solution
SIM Port :
GSM SIM Cards Frequency Bands
Quad-band-GSM850/1900MHz, 900/ 1800 MHz phase 2+full band
SIM Interface
1.8, 3V SIM Interface
SIM card Slot
Nano sim card
Antenna amplifying
3.5db (omni-direction)
Antenna Connection
SMA antenna connection
FXS Port :
Connector
2 parallel RJ11 Connector
Dialling and Reception
DTMF Dialling
CLIP
DTMF CLI
Answering and Disconnect Signalling
Polarity reversal for call Connect/Disconnect signalling
Dial tone frequency
450MHz
Picking off voltage
30mA/41mA
Power Supply :
Input
External power adaptor 100-240 VAC, 47-63HZ Output: @1.25A
Power Consumption
5W (Typical)
Operation Circumtance :
Operation Temperature
-10C~60C
Storage Temperature
-20C~70C
Operation Humidity
45%-95%
Others :
Mounting option
Wall Mount and table Top
Device Dimensions (LXWXH)
163mmx113mmx32mm
Packing Box Dimensions (LXWXH)
257mmx193mmx64mm
Actual Weight
450 gm
Volumetric Weight
800 gm
Packaging
Standard Carton, 20PCS/Carton
Minimum PC Requirement :
For Single User
Operating System
WinXP, Win7, Win8, Win10 & Any Server
CPU
Dual Core & Above
RAM
2 GB & Above
Harddisk
500GB & Above
Connectivity Mode
USB Connectivity
For Multi User/Multi Locations : Agent Side
Operating System
WinXP, Win7, Win8, Win10 & Any Server
CPU
Dual Core & Above
RAM
2 GB & Above
Harddisk
500GB & Above
Connectivity Mode
USB Connectivity
For Multi User/Multi Locations : Server Side
Operating System
WinXP, Win7, Win8, Win10 & Any Server
CPU
i5 and above depend on No. of user connected
RAM
8GB and above depend on NO. of user connected
Harddisk
1 TB and above
IP
Static IP for Multi Location Setup
Bandwidth
Depend on Number of Multi Location users