AVL-32T5PE08-PCI EXPRESS SLOT CARD
AVL-32T5PE08 PCI Express Voice Logger provided with window base software has its utility for 08 telephone lines/PBX extns. With the help of this, the user can record the calls conversations and stack into the database via the user management software and retrieve call records when needed.
AVL-32T5PE08 telephone call recording window base software will permit you to monitor the live ongoing conversations, filter call logs, listen to recordings, maintain quality conduct quality for certain recordings, and many more. In addition, AVL-32T5PE08 voice logger, telephone line logger has simple operational and maintenance procedure.
Aegis AVL-32T5P08 PCI Express Telephone call recorder / Voice logger allows the user to record conversations of maximum 8 Telephone lines or PBX Extensions and store the records into the computer's hard drive though PCI or PCIe computer Slot. This combination of hardware and software of Aegis
telephone call recorder
is an ideal product to keep the track of conversations, stocking up the records, filtering desired result via advanced searching tool, monitoring online calls and myriads of other features.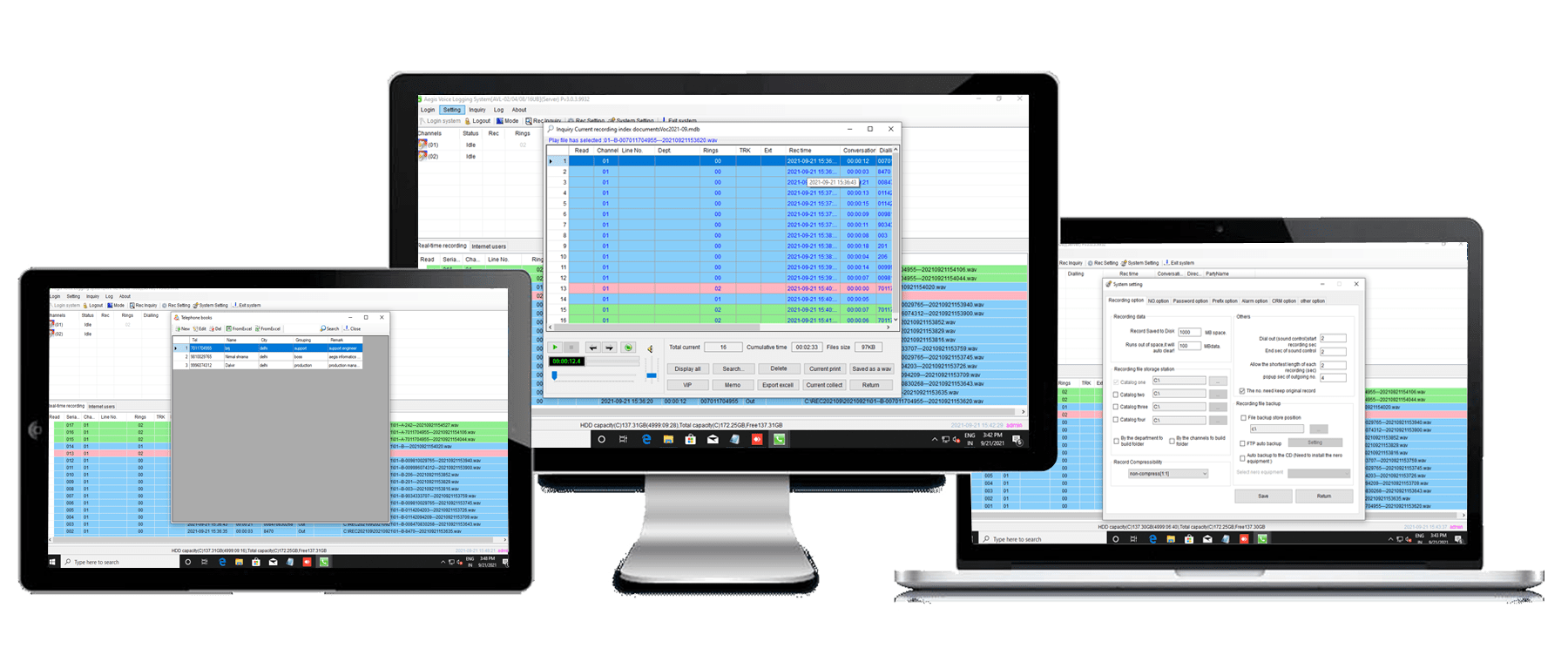 Product Features
Connectivity
Well consistent with POT/Analog Telephone Line/PBX Extn./Radio-Analog

Compatibility
Compatible with popular and major PBX systems such as Cisco, Avaya, Nortel, Mitel, Panasonic, Matrix and NEC our call recorder can be set up to meet and expand with your needs and system.
Online Monitoring
Admin or supervisor can select any agent or extension channel to listen call conversation in real time
Powerful Search and Reporting
Advance powerful searching tool with dynamic searching ability and filter results by reconciling phone number, time, date, Tag, Comment, Company Name or even by customer name through the context storage with myriads of combinations.
Echo Cancellation
Aegis telephone call recorder has provision of auto gain control and auto echo cancellation. Window-based software's features like, AGC and Auto Echo Cancellation provides impeccable audio quality crystal clear voic of the recordings.
Auto Recording Circularly
When the hard disk of the system reaches to its maximum, the already mentioned space reposited with foremost call logs will be deleted then only.
Unanswered Calls
Unanswered calls number if not attended
LAN Base Client Software
Aegis telephone call recorder has provision of client software it works on N Number of PC connected on LAN Network. Supporting multiple user access levels, the user interface helps super visors, and generate reports for further analysis.
Note and Flag
Tag Notation and Flag - Important calls can be flag/tag for future reference. In addition, notes remark can be added for each call record.
Recording File Format
Compressibility feature for incoming and outgoing calls in .Wav file to manage the disk space efficiently.
System Alert
System Alert-Various alert pop ups to avoid recording predicament

Call Management
Advance call management function can list, print and statistical all incoming outgoing & missed calls.

Export to Excel
Export to Excel - Single click for daily, weekly or monthly calls report in excel
Integration With Third Party Software
You can incorporate the telephone call recorder with most third-party database or environments. This gives you the leeway for archiving and storing call records in well-organized manner on any third-party database (My SQL, MS SQL, Access)
FTP Auto Back-Up
After open FTP setting, it can back-up the recording file as secondary backup on other PC/server
HOW AVL-32T5PE08 VOICE LOGGER CONNECT TO TELEPHONE LINE OR PBX EXTN
Technical Specifications:
Model No:
AVL-32T5P08
08 Port PCI Recording Card
Technical Parameters:
Recording Interface
Express PCI Slot
Voice File
.WAV
Recording file compression
8 Time
Start Recording Mode
Timing Reversed polarity, key, voice activated
off hook detect Voltage
<(15-30)V
On hook detect Voltage
>(15-30)V
Input Impedance
600ohms or 5.1 Mohms
Signal-to-Crosstalk ratio
>70db
S/N ratio
>70db
Operating Current
500 MA
Maximum Current
2A
Rating Power Consumption
5W
Accessories
Connectors, Software and user manual CD
Operation Circumstance :
Operation Temperature
-10~60C
Storage Temperature
-20C~70C
Operation Humidity
45%-95%
Others :
Packing Box Dimensions (LXWXH)
245mmx160mmx47mm
Actual Weight
300 gm
Volumetric Weight
600 gm
Packaging
Standard Carton, 20PCS/ Carton
Minimum PC Requirement :
For Single User
Operating System
WinXP, Win7, Win8, Win10 & Any Server
CPU
Dual Core & Above
RAM
2 GB & Above
Harddisk
500GB & Above
Connectivity Mode
USB Connectivity
For Multi User/Multi Locations : Agent Side
Operating System
WinXP, Win7, Win8, Win10 & Any Server
CPU
Dual Core & Above
RAM
2 GB & Above
Harddisk
500GB & Above
Connectivity Mode
USB Connectivity
For Multi User/Multi Locations : Server Side
Operating System
WinXP, Win7, Win8, Win10 & Any Server
CPU
i5 and above depend on No. of user connected
RAM
8GB and above depend on NO. of user connected
Harddisk
1 TB and above
IP
Static IP for Multi Location Setup
Bandwidth
Depend on Number of Multi Location users