USE AEGIS CMS TO RECORD REMOTE AGENTS OR MULTIPLE LOCATIONS AND UPLOAD ALL RECORDINGS TO A CENTRALIZED OFFICE SERVER.
Aegis Telephone call recorder used in Multiple or remote locations can be managed in centralize server with web base software with the help of Aegis CMS and begin listening and playing back your recorded calls, conduct quality control and interact with your recordings. Aegis Centralize Management Software packed with state of art features like location-wise advance searching, status of connected devices, multiple web user with permissions, popup facility, tagging and notation of important calls, phonebook, encrypted voice file, time base voice file compression and so on.
SILENT FEATURES
Web Base Software
A key advantage of Aegis web-based software is that all your recording files and data centralized and accessible over the web from any computer at any time. You can get to it from anywhere. Safe, secure, and password protected. Aegis CMS compatible with internet explorer, Google chrome and Firefox.
Indigenous file transfer protocol with synchronization
Aegis use own indigenous client server file transfer protocol for accurate and secure result with auto synchronization.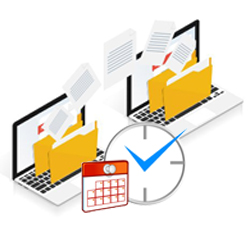 Option of next to real time or schedule file transfer
Customer has choice to transfer remote agent/office data in real time or time base schedule as per their convenient.
Add Multi user with permissions
Aegis CMS have provision to add multiple user with different user id and password with assigned features permissions.
Advance Searching Tool
Searching of Previous Call Data by phone number, time, date, Tag, Comment, Location-wise, Agent-wise, Company Name or even by customer name or customer ID through the context storage.
Phone Book
Aegis CMS has provision of Phone Book to maintain the customer's general information. We can easily import or update whole detail of customer with single click in Aegis centralized Management Software.
Tagging & Notation
Important call can be Flag/Tag for future reference at remote agent /Office can be automatically update in Aegis Centralize Management Software. In addition, notes/remark can be added on important calls and search or prepare report when require.
Reports in Excel
single click for daily weekly or monthly location wise or Agent-wise report in excel.
Single Click Setup
Aegis CMS single click setup makes it easy to install with time saving process.
Time Base File Compression (56kb per min)
Aegis CMS have provision of lossless time base compression which reduce size of recording file upto 8 times as compare to actual size and allows user to store more files in the available storage space without reducing voice quality.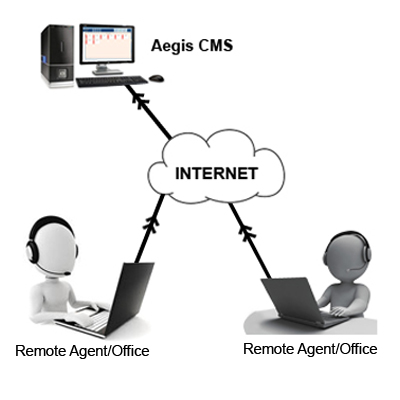 Remote Devices Status
Aegis CMS have provision to check status of active or non-active remote voice loggers connected with it and also show each port on hook, off hook status with running call details.
Auto Echo Cancellation
Auto Echo Cancellation - Aegis Voice Logger have Auto Gain Control and Auto Echo Cancellation which give Crystal Clear Voice Recording.
CMS window base software application, Our Aegis CMS allows users to manage client interaction, store and capture call recording data in centralized server (Centrally).
Minimum PC Requirement :
For Single User
Operating System
WinXP, Win7, Win8, Win10 & Any Server
CPU
i3 and above
RAM
8GB and above (depend on number of location)
Hard Disk
1TB and Above
Bandwidth
10mbps and above (depend on number of location)
Static IP
Need static IP at server point